Week two of the college football season brings us several great candidates for college football suckage in this week's nominations for Cob of the Week.  (And since Nebraska won, we get to laugh at everybody else!)  We've got plenty of SEC love, a recent favorite and an old reliable standby.  (No, not Dan Hawkins...the other guy.)
So here we go with this week's candidates for Worst of the Weekend in College Football!
Fox Sports 1
They're rebranding themselves "FS1" now, but on Thursday night, they brought back some of the painful memories of watch FSN telecasts of Big XII football. Times are getting tough at Fox in the cord-cutting age; more and more people are dropping cable and satellite programming, so revenue is starting to drop, unlike rights fees for sporting events. So Fox has to do something to save a few bucks.  On Thursday and Friday, Fox didn't send an announcing team to the Bowling Green/Western Kentucky or Miami/Florida Atlantic games. Instead, studio host Rob Stone and analyst Dave Wannstedt called both games from Fox's studios in Los Angeles.
If you call a game in Bowling Green, Ky., from Los Angeles, it sounds like you're calling a game in Bowling Green, Ky., from Los Angeles.

— Andy Staples (@Andy_Staples) September 11, 2015
Arkansas
Earlier this week, Bret Bielema criticized Ohio State's schedule because they only face 1 ranked team while the Razorbacks have to play eight ranked teams (spoiler alert - some of them probably won't be ranked after this week).
Bielema said OSU played one more ranked team on its schedule while his Hogs have eight more ranked teams to play ... Ouch

— Edward Aschoff (@AschoffESPN) September 9, 2015
The Razorbacks then proceeded to lose to a MAC team from Ohio (Toledo) AT HOME.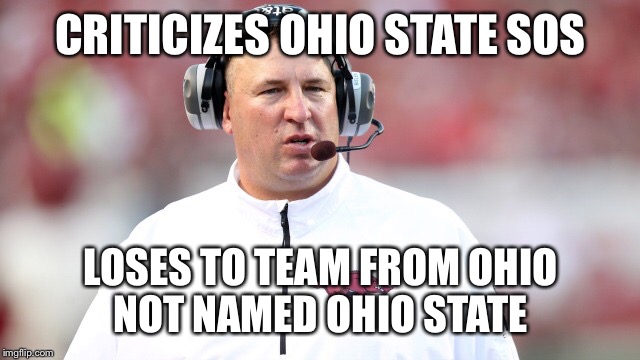 Someone should tell Bert that it's advisable to beat the unranked teams on your schedule too. SEC!SEC!SEC!
Kirk Ferentz
Ol' Kirk has decided that since he's not going to be fired, he can play fast and loose as of late. Last week, he called  for a fake field goal that didn't work, but Hawkeye fans loved it, because, well, it was Ferentz doing SOMETHING different.  It was so popular, he decided to do it again against Iowa State.  From the 22 yard line - on the final play of the first half.  So while Marshall Koehn made it to the five yard line, it didn't matter because the clock ran out.  No points for Iowa.
Ului Lapuaho
BYU has developed a reputation for playing, well, not in the most sportsmanlike manner. On Saturday, BYU offensive lineman Ului Lapuaho gave a Boise State player the full Tony Jerod-Eddie treatment.
This happened during the Boise State BYU Game http://t.co/fBF9tSxzLM

— Brandon Spiegel (@BrandonSpiegel) September 13, 2015
Ben Cotton does not approve.
Auburn and Jacksonville State
Auburn gets nominated for narrowly avoiding an upset by 1-AA Jacksonville State, who was a 40 point underdog to the Tigers.  But we're also nominating Jacksonville State for running out the final 40 seconds of the game and taking their chances in overtime.