Official Release: 
 DALLAS (FWAA) - Idaho guard Mike Iupati, Oklahoma State tackle Russell Okung and Nebraska defensive tackle Ndamukong Suh have been named finalists for the 64th Outland Trophy, which is awarded to the best interior lineman in college football by the Football Writers Association of America.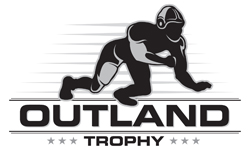 The winner of the Outland Trophy will be announced on the evening of Dec. 10 during "The Home Depot ESPNU College Football Awards Show" at the Walt Disney World Resort in Lake Buena Vista, Fla. The show, hosted by ESPN's Chris Fowler, Lee Corso and Kirk Herbstreit, airs from 7-9 p.m. ET on ESPN. 
Iupati, a 6-6, 330-pound senior from Anaheim, Calif., is projected as a high NFL draft pick and has been the anchor for the Vandals' offensive line, which has helped produce more than 30 points a game this season and the 17th best passing offense in college football. Born in Samoa, Iupati, the former high school wrestler and track star has been one of the major reasons the Vandals have compiled a 7-4 record and are bowl-eligible heading into the regular-season finale again Utah State on Saturday. 
Okung, a 6-5, 300-pound senior from Houston, is often rated as the top offensive tackle NFL prospect in college football. Heading into the regular-season finale against Oklahoma on Saturday, the durable Okung is slated for his 46th consecutive start for the Cowboys. He's a big reason why the 9-2 Cowboys' offense produces 203.5 yards a game on the ground. Twice during his career he has not allowed a sack against the nation's leader at the time - the latest was an effort against Texas A&M end Von Miller this season.
Suh, a 6-4, 300-pound senior defensive tackle from Portland, Ore., leads Nebraska in tackles with 35 unassisted and 30 assisted. He has 15 tackles for 52 yards in losses (6.5 sacks), 10 pass break-ups, 20 quarterback hurries, one interception, one forced fumble and three blocked kicks. Nebraska ranks eighth in the country in total defense and 14th in rush defense. A top NFL prospect, Suh heads up the nation's third-ranked scoring defense that has propelled the Cornhuskers to an 8-3 regular-season record heading into the regular-season finale at Colorado on Friday.
The Outland Trophy, which has been awarded annually by the FWAA since 1946, is named after the late John Outland, an All-America lineman at Pennsylvania at the turn of the century. The Outland Trophy is the third oldest award in major college football behind the Heisman Trophy and Maxwell Award.