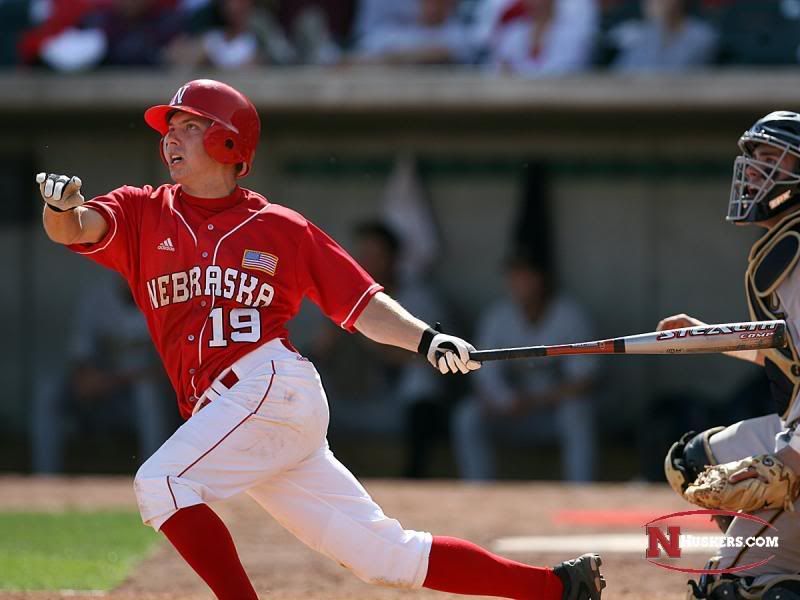 [Scott Bruhn/NU Media Relations/Huskers.com]
Pardon the title pun after such a windy win on Sunday, but I can't help myself. The wind whipping across the Nebraska plains seemed to have woken up the dormant offense as the Huskers scored 12 (!) runs in the bottom of the sixth inning en route to a 16-1 seven inning destruction of Mizzou. Of course, the Tigers still took the series by winning the first two games, and Nebraska is still near the cellar of the Big 12 with their worst start since 1997... but for now, I'm happy again.
Well, for the most part... I'm still annoyed with the way Mike Anderson has been handling his in-game strategies this year. Don't get me wrong, I think he's a great manager when it comes to teaching these kids on the field and off, but I'm not enthralled with his bullpen management or his predilection for bunting virtually anytime there's a leadoff runner. Lately, though, he's been leaving pitchers in for too long.
This series against Missouri is a great example of what I mean. In the first game, he left Tony Watson in for 130 pitches though he seemed to tire, and then when he did pull him, he had a slow hook when Herr and Bird struggled to get outs. Saturday, he let Charlie Shirek throw 110 pitches through 5.0 innings. There's nothing wrong with 110 pitches, but when you're averaging 22 per inning, you're not being effective or efficient. Shirek was getting smacked around to the tune of 13 baserunners in those five innings.
Even today, when Dorn was pitching well, he probably should have lifted him for the seventh. Why? The game was well in hand, and Dorn had just sat on the bench for a long time while the 'Skers nearly batted around twice. That's the perfect time to put Herr or Bird back in there, and help them regain their confidence. Instead, he throws out Dorn, who -- even though he struck out yet another Tiger -- was still cold off the bench. Considering his history of arm problems, I'm not a fan of that move.
It's still a win, though, and the 3-for-3 and 2-for-4 days by Bryce Nimmo and Ryan Wehrle, respectively, are encouraging. I'd be sorely remiss if I didn't mention Andrew Brown, though. The Texas slugger hit a school-record three doubles, and also lofted a homer into the left-field berm. For those of you keeping track of that at home, his 4-for-5 extra-base performance left him with 10 total bases on the day, and lifted his team-leading Slugging percentage to a meaty .583, tying him with Jeff Tezak's .583 mark. The best part of the boxscore, though? No Husker struck out. For a team that's averaging over six per game, that's bodes well.
Coming up next on the docket is Mike Anderson's alma mater, Northern Colorado. The Huskers take on the Bears on Tuesday and Wednesday, and look to get back to their winning ways.