Tony Watson threw 130 pitches over ten innings (!), gave up three hits, one run, three walks and struck out seven. He also threw to first about twenty times in the ninth inning, after he had already showed signs of tiring by letting his back leg lag in the follow-through.
With just five pitches in the 11th inning, Zach Herr set the table for the Tigers to break out of a 1-1 tie. Erik Bird came into the game with the bases loaded and none out, and quickly retired two hitters. The third, though, was the killer.
A hot shot past a diving Andrew Brown at first base scored two runs, and the game was all but over. Two more crossed the plate before the final out was recorded in the top of the inning, but considering the Huskers now faced a four-run deficit and had only recorded five hits to that point in the game... it was over.
If nothing else, Mike Anderson once again showed the world that he loves the bunt play more than anything else in baseball. At one point, with runners at the corners and one out, he chose to try a suicide squeeze to get the run home, instead of opting for the higher percentage play of a sac fly. Of course, the Huskers came away with no runs.
Twice more, in the bottom of the ninth and tenth innings, Anderson was given a leadoff baserunner and immediately gave up an out to advance the runner to second. While this is generally a sound strategy in the ninth inning, as one run would have won the game, Anderson ignored the fact that the player he was ordering to give himself up was one of his best hitters -- Andrew Brown.
The sac play in the tenth inning made even less sense. Mitch Abeita, who's tied for third on the team in doubles even though he has only 27 at-bats, gave himself up to get a runner in scoring position for... Bryce Nimmo. It's been about a year since Nimmo was a decent hitter, and relying on a .211 pure singles hitter to score a man from second is bordering on crazy. Mike Anderson has stuck with Nimmo in the lineup for far too long. Why he wouldn't at least sub in a pinch hitter such as Thad Weber or Jeff Lanning is beyond me.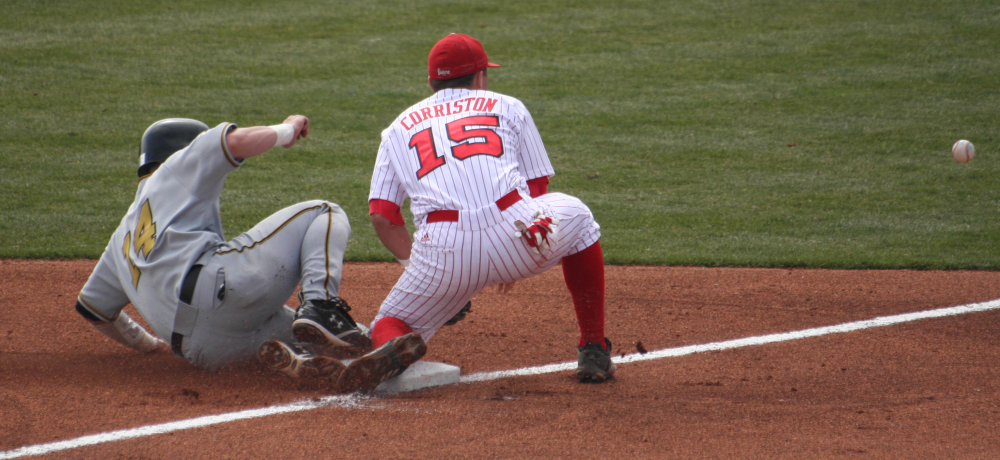 Overall, the game was filled with errors on the field, and errors by the manager. Instead of bringing in the effective reliever he already had warm in the bullpen, Anderson brought in the arguably the two least effective relievers he had. Extra innings of a close conference game is not the time to regain confidence and figure out why these pitchers aren't doing well. That's why Nebraska plays Wayne State and Western Illinois and the like.